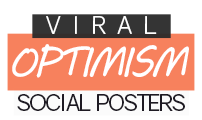 Grab 100 Social Media Images You Can 
Use

!

If you think about, Optimism is an interesting thing.

It's really about having the mindset to view things in a positive light, regardless of the any possible negative overtones.

Many people argue that the world needs both optimists and pessimists.  I'm not sure that is true. But whether that's true or false is not really important.

The act of thinking positively towards any situation is something that can truly help just about anyone.

Realistically, just thinking positively by itself is a powerful thing.  It can work wonders on a person's life.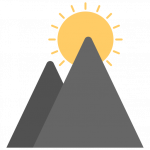 Regardless if you're an optimist or a pessimist, or maybe even in between, here's something that you can benefit from in your business and marketing efforts.
I'm talking about using the topic of "optimism" to generate traffic to your website.
How can you do this?  It's pretty simple.
You've probably seen images with quotes on them on social media for a while now.
The reason they're so prevalent is because businesses and marketers post them on various social networks and then other folks do the rest of the work.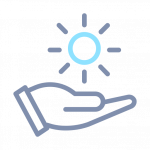 A large amount of people on social media will see the quote, relate to it, and then share it with their audience of friends and followers.
What this does, naturally, is help posts go viral.  Meanwhile, the image is connected to somebody's page, website, URL, etc.
Because of this, someone can possibly create a lot of traffic for whatever they'd like.  Whether it be a product, promotion, business, video, or anything else.
The challenging part is putting together the quote image, as it can be a tedious process.
But, guess what?  That's all taken care of for you.
Right now you can get access to a package of 100 high quality 'optimism' based quote poster images that you can use however you choose.
You can even modify any of the images, because the editable Photoshop PSD source files are also included for all of them.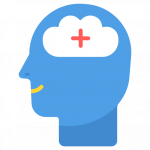 All you have to do is take any of the 100 quote images, add your URL, logo, etc., and then post on social platforms.
We've done the hard work for you so that you can take advantage of the traffic potential with these kinds of images.
Best of all, this entire package won't blow your budget, because you can gain access to all of the stuff I just mentioned for a low one-time payment.
The quotes are gathered, placed onto awesome photos, and ready to go for you.  The rest is entirely up-to-you, so what are you waiting for?
View the quote image previews, all of the details, and gain access on the page below!
100 Optimism Related Social Media Images

Look At The 100 Social Posters Below!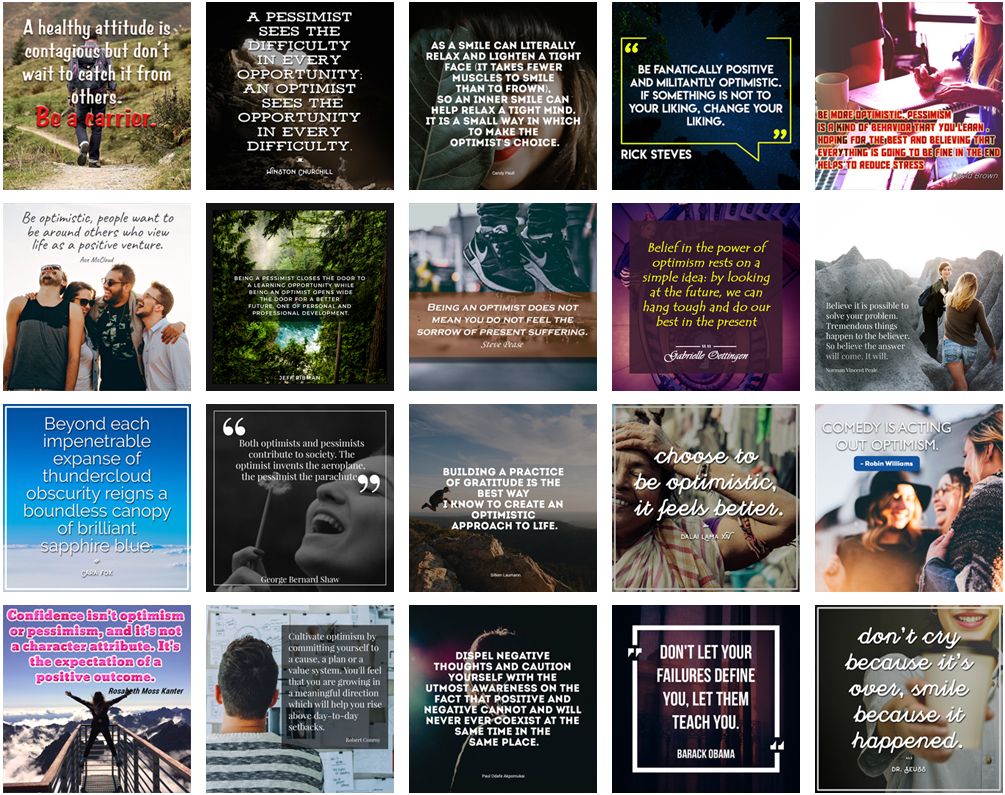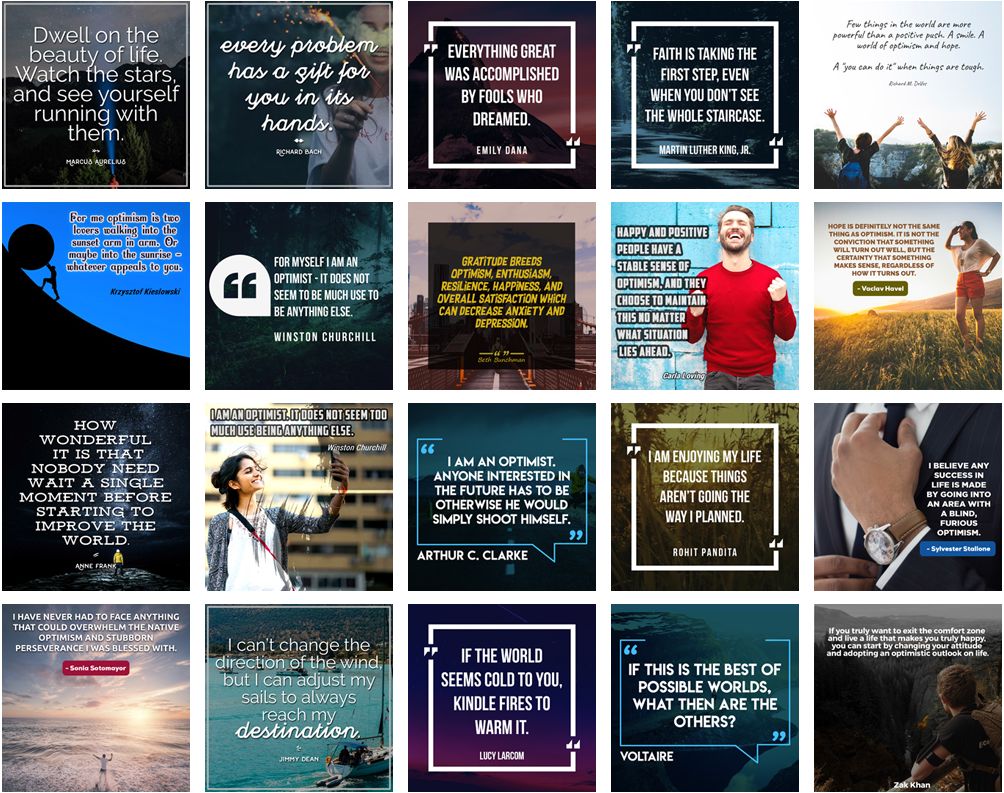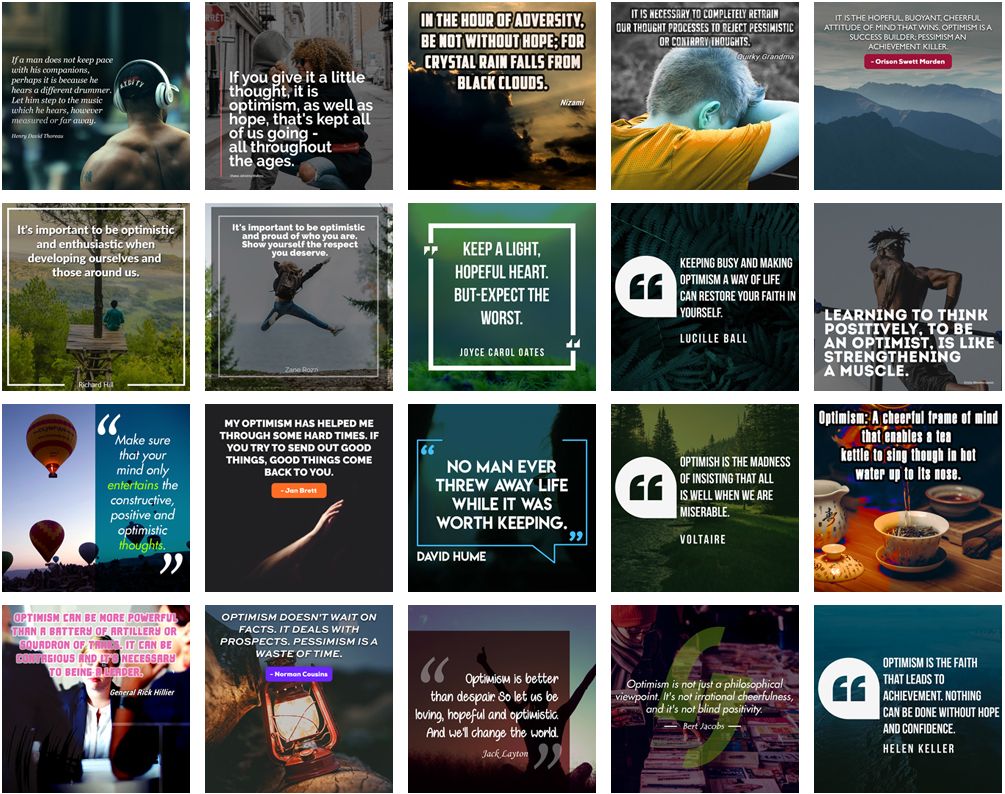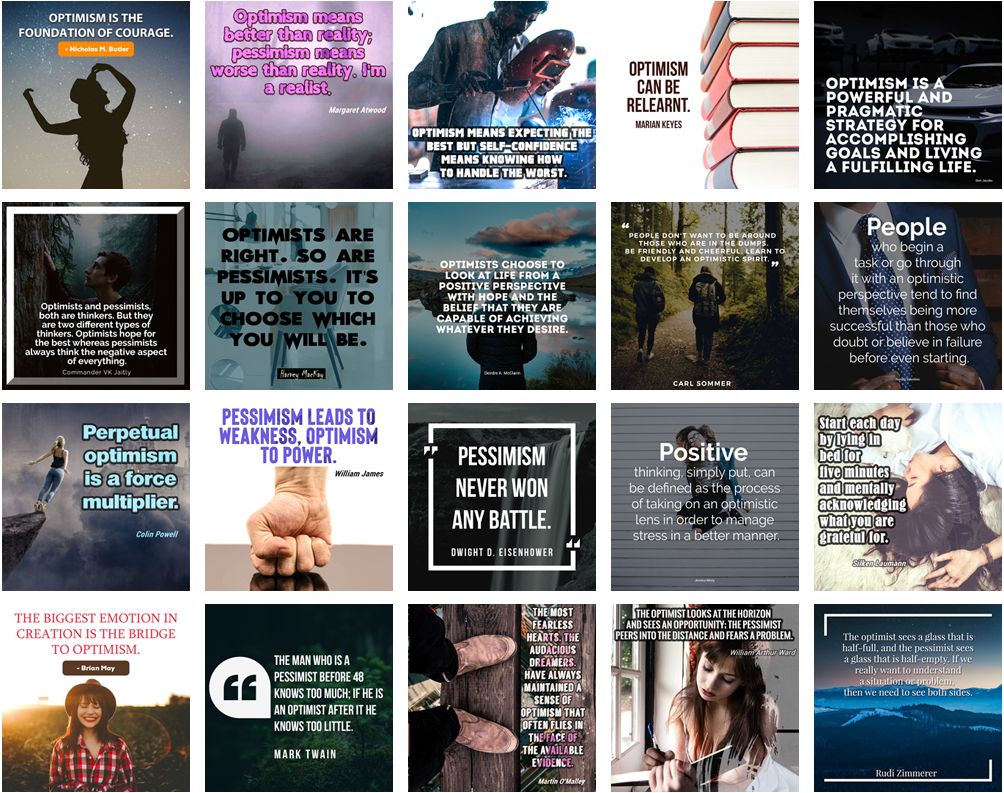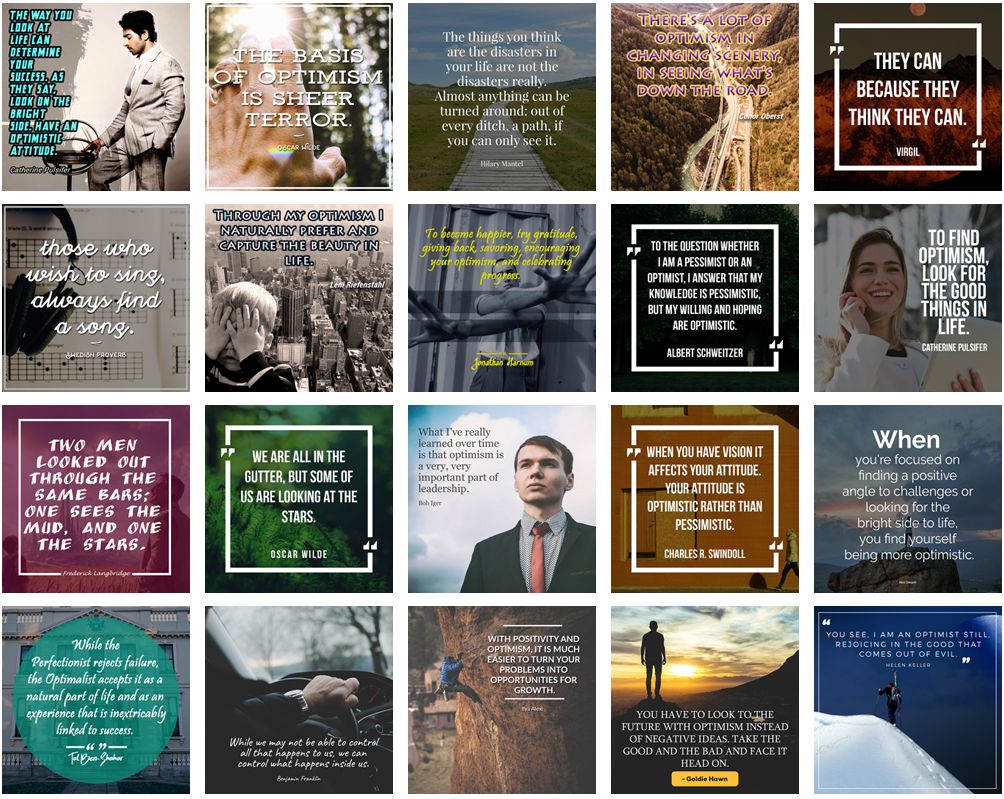 All Of The Tedious Work Is Done For You!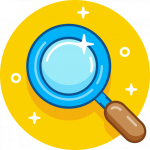 While this may seem like a mindless and easy taks, it can quickly become tiring and boring.  Not to mention, finding 100 quotes or sayings related to one specific topic starts to get tricky after a while.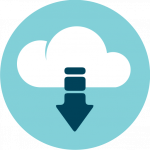 Whether you're going and grabbing some royalty-free images, or you're purchasing them with credits on a stock photo store, this costs either time or money.  We have the perfect images for each quote.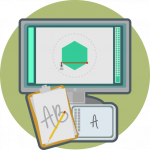 Designing In Photoshop
Perhaps the most difficult and expensive part of the process, graphic designers were hired to create eye-catching top quality social posters and including the PSD files for each image.
 

Here Are The 4 Modules You Receive

 
Of course, no sales page is complete without some sort of module breakdown that explains the package.
So... wait no longer, here's the breakdown of each of the 4 modules.
100 Optimism Social Posters
If you're looking for fresh content, especially content that you know will generate engagement, then this is by far one of the easiest and quickest ways to go about it.
You'll receive 100  social media "quote" images in PNG file format.  Each image will contain a different quote, and a stock (royalty-free) photo as the background.
Everything is clean, safe, and entirely ready to use right from the get go.
100 Social Poster Quote Images

1080 Pixes By 1080 Pixels Image Dimensions (Size)

PNG File Format (Uncompressed High Definition)

Fully Licensed Stock Images As The Background
File Format(s) Included:

100 PSD Photoshop Source Files
Maybe you're not happy with the font or coloring on one of these social poster images.  Or perhaps you just want to change something up (or add your URL and logo).
Well, I have good news for you.  Because that's not a problem, because you will be receiving all 100 editable PSD source files for these social posters.
You can simply open any file in GIMP or Photoshop and make the changes you want.  Then just save it and you're good to go.  It's really that quick and easy to change the images.
100 PSD Files (One For Each Quote)

Edit With Photoshop (Paid) or GIMP (Free)

Add Your Name, Brand, URL, etc.

Modify The Quote or Anything Else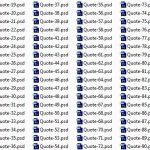 100 Quotes In A Spreadsheet
Being able to go through these quotes in text form, and see who said what, is going to be a big help in a lot of ways.
That's why you'll also receive all 100 of the quotes in a neat and organized spreadsheet file that you can easily open up and navigate to that quote.
This will allow you to post these posts elsewhere in text form, or do tons of other things with them.
And this spreadsheet continues on until you get to 100 total quotes.  Every quote in the posters is included in this detailed spreadsheet.  You can use this in any way that you'd like.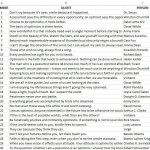 Royalty-Free Extended License
How can you actually use these social poster quote images without knowing what your usage rights are?  You couldn't, though some still would.
Regardless, you'll receive a thorough and very detailed extended royalty-free end user license agreement that clearly lays out exactly what you can and cannot do.
Want to use these posters to build your audience or your client's audience?  That's explained in there.
Want to change these social posters up and add your branding?  That's explained in there too.
Everything you need to know is detailed in the license agreement you'll be receiving.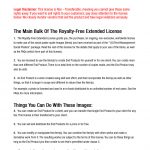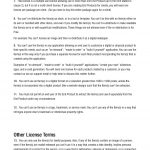 And the license agreement continues with more details, and even a frequenty asked questions section as well.  So you can rest easy knowing every nook and cranny is explained in here.
File Format(s) Included:

Here's Some of What You 

Can

 

Do

 With These...
Post them on social networks and drive traffic anywhere to any location

Share them on Pinterest to get viral exposure

Build a targeted following on Instagram around these topics

Use them in your blog posts to create buzz and conversation around the subject

Generate a viral buzz on Facebook
Make blog posts for inspiration with them

Create a dedicated following on Twitter

Establish social presence for clients and yourself

Use them for inspiration in your own business or for your own customers

Include an image in your newsletters

Share them everywhere you can
This Is An Easy Way To Generate Traffic!
Various Images / Quotes To Choose From

Eye Capturing Design And Styles For Each

Can Add Your Logo Or Brand Text Easily

Set Them On A Schedule And Automate Posting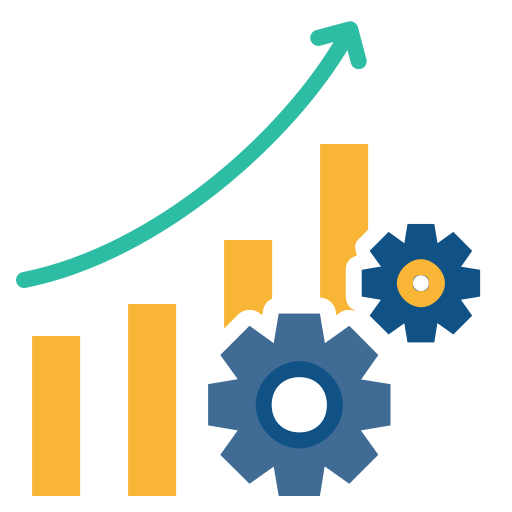 Use These Social Media Images...
Step 1: Choose One of The Images
There's 100 images to choose from, and they cover all sorts of quotes, sayings, and even statistics related to optimism.  Meaning you should have no trouble finding more than a few "social posters" to fit your audience.
Step 2: Add Your Name / Website / URL / Etc.
Whether you have Adobe Photoshop (Paid) or GIMP (Free), you can add your name, website title, brand logo, or URL to any of these quote images.  You can even use an online image editor if you'd like to do it that way.  Or you can skip it!
Step 3: Post It On Any Site Or Anywhere You Want
This is perhaps the easiest step of the process.  All you have to do is go to a social network site that has people that will share your image.  Simply post your quote image, add some relevant tags, add a link to your site, and enjoy.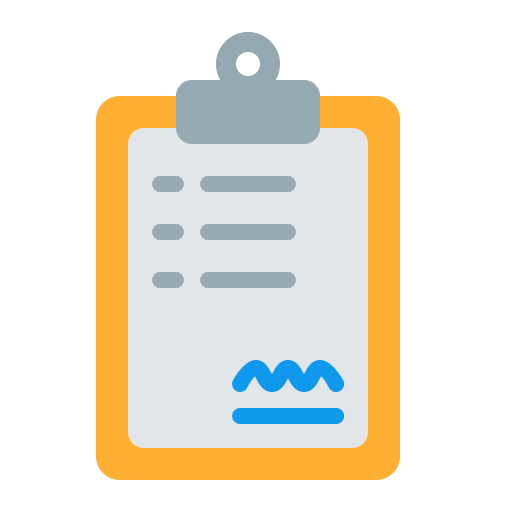 I'm fully committed to ensuring that you're satisfied with your purchase of this social media images package so I'm offering you the following:
A 30-day risk-free money-back guarantee refund policy.  If you find that these images aren't up to par, don't benefit you, etc, then just contact the support desk within 30-days of your purchase and you'll receive your money back.
Are You Ready To Grab Your Copy?
Putting together this entire package yourself, might end up costing you a pretty penny.  
Just take a look at everything that's in this graphics package:
Here's Everything You Receive Today
100 Social Poster Images In PNG Format
100 PSD Photoshop Source Files
100 Quotes In A .XLS Spreadsheet
Extended Royalty-Free License
Secure Your Copy Using The Button Below...
Frequently Asked Questions & Answers
Q: What file formats are included?
You will receive PNG files for the actual social poster images themselves.  Additionally, you'll receive the PSD Photoshop source files for each of the social posters as well, so that you can easily edit them.
Q: Can I edit or change these social media images?
Yes, you are permitted to modify these images in any way you see fit, whether by using the PSD files or not.
Q: Is there a money-back guarantee?
Yes, there is a 30-day satisfaction money-back guarantee in place for this package.  If you are not satisfied with your purchase, then just contact me support@dawncwhite.com within 30 days for a refund.
Q: Will I receive a license agreement?
Absolutely, you will receive a license agreement that outlines what your usage rights are.
Q: Where can I post these images?
There's really no limit to where you can post them, examples are Facebook, Instagram, and Pinterest.
Q: Are the photos used royalty-free?
Yes, the images used in this entire package for the backgrounds or any icons, are indeed royalty-free or fully compensated for.  Guaranteed!