Don't know where to start?
Taking the leap from being an employee to starting your business, can be very overwhelming. I think we have all been there. Excitement is good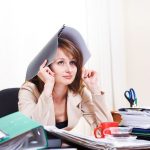 but we want to harness that energy into positive actions and make sure we are moving forward. Overpowering feelings can make moving forward seem impossible. When I'm feeling overwhelmed, I take and a deep breath and then I start my planning.
Write deliverables, goals down
Sometimes focusing is extremely hard. I know. I understand. Start out by asking yourself these questions:
What are my short term goals?
Exactly what do I want to accomplish?
Once completed what will I have?
What is the desired output?
Try to limit these questions to one area, for example: social media. A short term goal might be to have a social media plan that addresses daily tasks for Twitter, Facebook, and Pinterest.
List main tasks for each goal
Now that you have determined your specific short term goal, i.e. a social media plan, determine what you or others need to do to obtain that goal. For our example, your plan might include
ens
ure you have an account for Twitter, Facebook, and Pinterest
research what others in your space are sharing on Twitter, Facebook and Pinterest
how often do others in your space share on Twitter, Facebook and Pinterest
decide what topics you will share on Twitter, Facebook and Pinterest
decide how many times a day to share on Twitter, Facebook, and Pinterest
Simple? It really is that simple.
Planning will make it better
Starting your business can be overwhelming and emotional. For me, one of the best ways to reduce the feeling of overwhelm, is to plan. When you feel overwhelmed, focus on one thing you want to accomplish. Then write down all the tasks that have to be done to accomplish your goal. Now don't you feel better?