I'm a firm believer that consistency is a key element in the success of a business. Of course, there are other important factors but consistency is what will create name and brand recognition. Consistency is what will build your tribe so you can develop a trusting relationship. Consistency is what will showcase your expertise to new followers. Building trust matters.
Let me give you an example: You go out to dinner at your favorite restaurant and you fall in love with your meal. A few weeks later you take a friend to the same restaurant, order the same meal, but it tastes different and you send it back to the kitchen.
Their lack of consistency in how your meal was prepared will now leave doubt in your head about that particular dish and possibly about the whole restaurant.
Doubt in a customer's mind generally means you have to rebuild that trust again to show that they should continue doing business with you. It's not impossible to earn their trust again but you're basically starting over.
Just like when you stop watching what you eat during the holidays and you have to lose those same 5 pounds again and again. Working your business consistently and focusing on quality content and excellent customer service will help to keep your customers happy and trusting in you.
Tell me, have you ever had something like this happen to you: You opt-in to an email list that has great potential. You receive a few weekly emails and then nothing. Nada. Then a month or two later you receive an email from that person again, making an offer to purchase their product. How does that lack of consistency make you feel?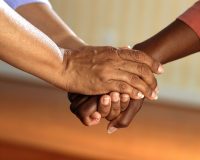 I'm guessing your first reaction would be, "Who is this person?" Lack of consistency will cause you to forget who they are and why you signed up for their list in the first place. Especially if you get a lot of emails. And the lack of name recognition generally leads to, "I don't know who you are so why would I buy from you?"
Again, this business owner just made themselves a much harder task to win you over again. It's possible but challenging.
And on a similar note: have you noticed how many folks saying they have the answers to earning 6- or 7-figure incomes? There are tons of them. If you tried implementing all of their different strategies, you'd be exhausted from keeping up with it all.
I've been there lol…And not only do we get exhausted, our audiences get confused about our overall message.
When it comes to branding, consistency and repetition will help develop name recognition.
If you wear clothes that match your website colors, folks will make the connection.
If your trademark is a purple stripe in your hair, don't go changing it to fire engine red; your followers won't recognize you.
Be consistent with your brand image, colors, and message, both online and offline so you're always recognized.
It's something I'm working on now…what about you? Is there any one thing with which you want to be more consistent? In the hope of building trust?