Do you want to save time during your day? Do you wish you had an extra 18 hours to accomplish everything on your to do list?
Most folks would answer, "Yes, most definitely." to those questions because a solopreneur's  to-do-list is never really finished…especially if you still have a 9-5.
Automating certain tasks, like social media, is one way to gain some time back in your day but that task still requires you to interact with your followers.
Social media schedulers, such as HootSuite and Buffer, are convenient and budget-friendly. Simply log in, schedule which posts you want published on which platform, and hit the save button. Done.
Some platforms, like Meet Edgar and Social Oomph, are more powerful because they continue to share your evergreen social media posts into the future, thus saving you even more time from creating and scheduling.
This all sounds wonderful and who doesn't want to have more free time but do these platforms eliminate the 'social' from social media?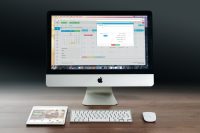 The answer to that is: only if you allow it.
Using schedulers is a wonderful thing and is a task that a savvy virtual assistant can take over if you choose to get some help. But you still need to be aware of what's happening in your social media world.
If your followers are asking for your opinion, you need to be there in a timely fashion giving your opinion. If customers are asking specific questions about a product or course, you need answer those questions.
Also, be active in your social media world in terms of connecting with others online. Yes, it's wonderful when folks find you but you should put in equal effort to connect with your target customer as well.
Passive marketing puts too much power into the hands of your target audience.
Don't wait and hope that they find you; make them want to choose you. Show them how you can help solve their problems.  (Isn't that part of you social media marketing plan?)
To do this successfully, you need to have a personal presence online instead of allowing a social media manager or third-party scheduler to be in charge.
Does your social media marketing plan include automation as well as approach for you being social?